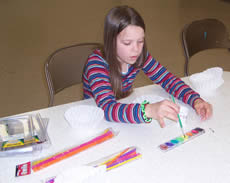 The Anna May Family Foundation strives to make grants
that will generate a real impact on the people the project serves.
Our foundation generally makes grants in the range of $1,000 to $10,000.
Our downloadable forms are at the bottom of this page.
Presently, the Anna May Family Foundation will make grants benefiting residents of Jackson County, Oregon and targeting:
those who are subjects of abuse;
children who are at risk, emphasizing preschool education and recreational and cultural enrichment for youth;
those needing emergency services, emphasizing shelter, food and medications;
those who are economically disadvantaged and who are seeking employment and training.
Restrictions
No grants will be made to individuals or to other foundations.
Grants for buildings, equipment and endowments will not be emphasized at this time.
The foundation does not make grants to support projects which have already been completed or grants for general operations.
The foundation avoids making more than one grant per year per organization.
Important Date
We are often asked what criteria our Directors use to screen and qualify grant applications so we put together the following guideline and questions. We encourage our applicants to apply these tools as they design their requests.
Screening for Eligibility:
Has the organization provided basic documentation (IRS determination letter, IRS form 990 and financial statements) as well as a clear and concise proposal summary to allow you to determine its eligibility for consideration? Does the request meet the legal requirements and the interests of our foundation?
Is this a credible organization, especially in the program area in which funds are requested? What is its mission? Its professional standing within our community? Its track record? Who is served and are there similar programs in the same geographical area? Is there evidence of community support? What are the distinctive merits of this organization?
Do key personnel have the necessary expertise to undertake the proposed program? Who provides leadership and vision for the organization? Is the management efficient and well-organized? Does the board composition reflect an appropriate diversity of skills and backgrounds?
How does the agency meet day-to-day operations? Is there a broad base of support? If it's a deficit operation, how does the agency intend to meet the deficit? Does the program budget make sense? Is it inflated or inadequate?
Problem or Need to be Addressed:
Has an important problem of workable dimensions been presented and data been given to substantiate the problem? Or, have needs to be met been presented and documented?
What will be accomplished with the proposed funding? Are the objectives realistic and measurable? Do they relate to the stated problem or need? If this is a new activity or approach, what has been learned from the research or similar programs?
Are the plans sufficiently detailed? Is there evidence given as to why the methods should bring about the desired results? Is the timetable for implementation realistic? Is staff adequate and capable enough to reach objectives?
Is there a procedure designed to measure accomplishment of objectives? For pilot or model programs, what plans have been made to share the results with others and implement the findings?
What other funding sources have been identified? If the program is to be continued beyond the grant period, is a verifiable plan presented for future financial support?
Is the proposal clear and logically presented? Has the writer avoided making unsupported assumptions? Is there extensive use of jargon?
AMFF Grant Applications
The AMFF grant application is now a PDF fillable document. Please make sure your grant packet submission includes all required documents.
Electronic application submissions should be sent to anna.mayff@gmail.com. You will soon receive from staff confirmation that your application has been received. If you do not receive this confirmation within three days, please send a follow up email or call: 541.601.9915.
Are you still in our target range? If so feel free to download the: